"Have nothing in your home that you don't know to be useful or believe to be beautiful."

William Morris
Since home has become our new sanctuary during this time of social distancing, many people are motivated to make their homes more comfortable and soothing. Your home should reflect your personality, your style and the mood you're trying to evoke in yourself, your family and your guests. There's no better way to do that than with natural elements, color and functionality throughout your home, but especially in the kitchen. Why?
The kitchen is the heart of the home, where the family comes together to eat, to prepare food, to talk, to start our day, to end our day and to bond as a family. Hager Cabinets is a family owned business, so our mission is to make your home the home of your dreams and a place that your family is eager to come home to. As we discussed in our last blog (link to blog), we built our showroom in 2018 to show our customers that style doesn't have to be expensive, while we showcase not only a variety of styles, but the variety of brands, colors, functionality, and latest trends.
Kitchen Décor Trends for 2020
COLOR, COLOR, COLOR.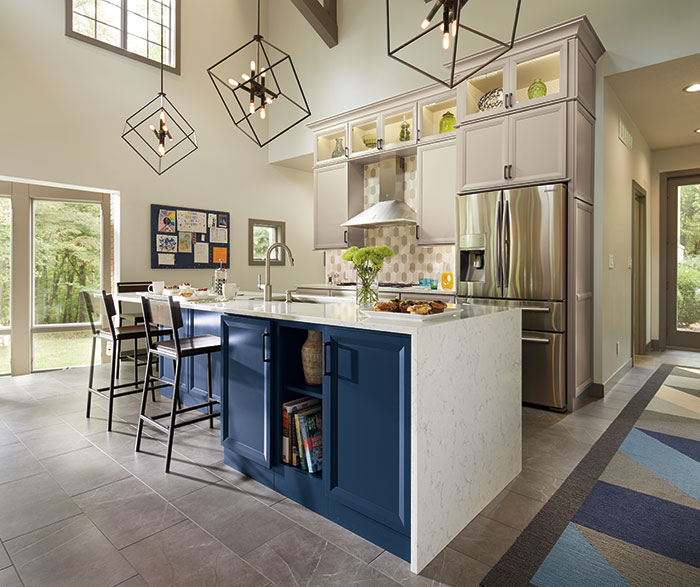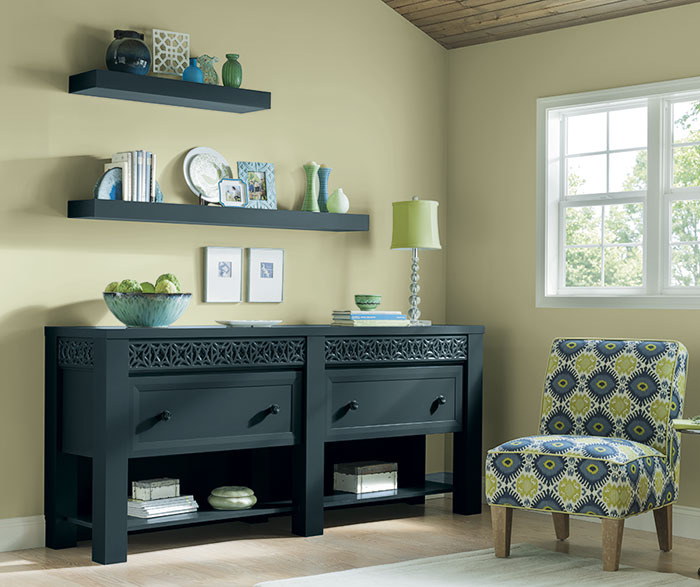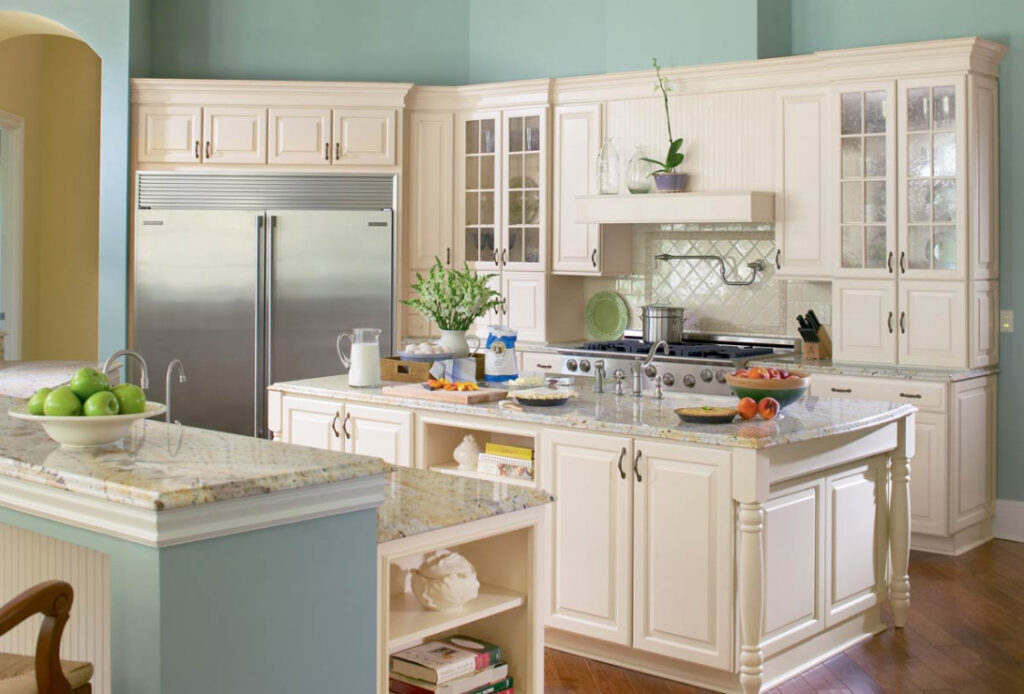 The first trend of 2020 is adding color, dare we say, colors beyond grey and white into our kitchens and bathrooms. Colors such as blue, teal, navy, greens and even off-white are beginning to make appearances in the best dressed kitchens and bathrooms. Here's what designers are saying about trends in 2020:
"White kitchen cabinets are still the most popular with over 40 percent of renovating homeowners installing them, according to Houzz research," said Mitchell Parker, Houzz editor. "However, we're starting to see designers add visual interest and warmth and break up the expanse of white by adding wood drawers, shelves and pullouts. Blues and greens work really well in kitchens,"

Mitchell Parker, Houzz editor , Washington Post
"While the all-white kitchen will probably never go out of style, there are lots of new design trends for 2020 that will make you equally happy. Think: natural elements with some pops of color."

– Country Living
"A pop of color is such a chic alternative to an all-white kitchen, but just as timeless. Who says kitchens can't have as much personality as the rest of the house?"

– House Beautiful
"We love a classic white kitchen, but lately we've seen requests for navy millwork, like what we did in the Goop offices in NY. It blends beautifully with marble and brass."

— Ariel Okin, ELLE Décor
WOOD GRAINS & TEXTURES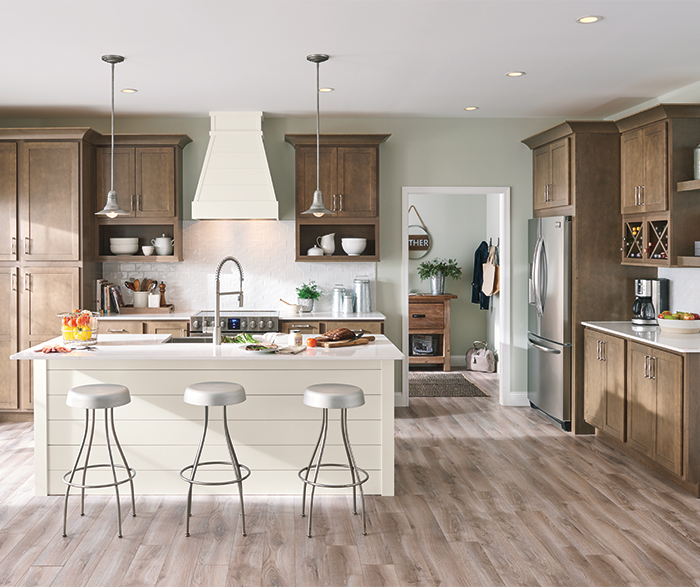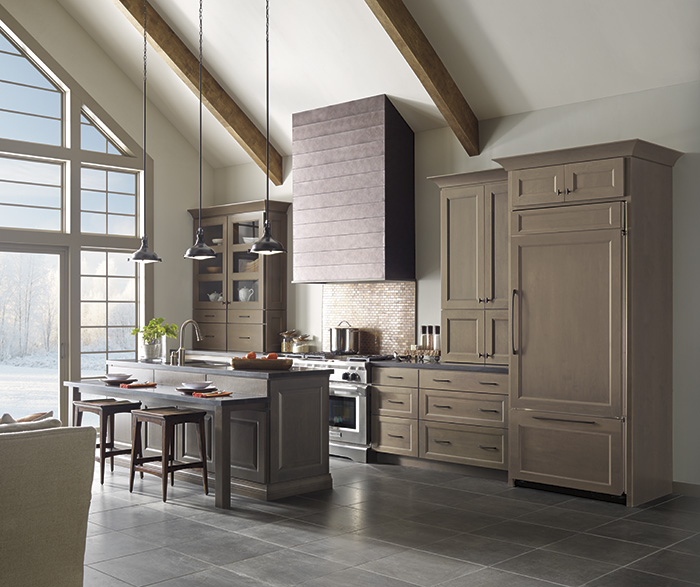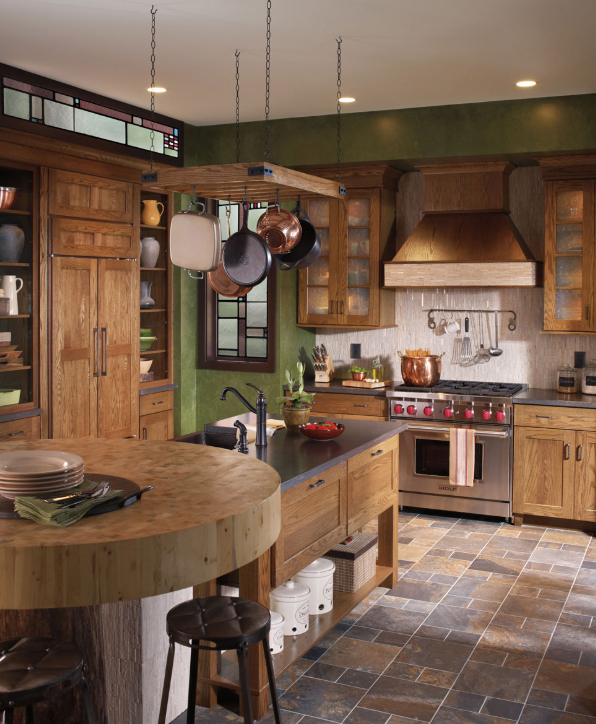 In 2020, the trends in cabinets will be moving away from the stark white to adding color and texture to your cabinets, countertops and walls. Another style trend is adding texture to cabinets with a variety of woods and natural elements that go beyond the classic oak, walnut and maple stains.
"Alternative wood can be used for kitchen cabinets to give any space an exotic look."

– HGTV.com
"Out of fashion for a while, wood is now enjoying a bit of a revival. Use subtle-grained ash, paler than oak or walnut, to pick out the warm tones in manmade stone."

– Homes and Gardens
"While we're still seeing stained and painted woods, we're also seeing it in its natural state. Try adding a kitchen island—or just the topper—in a pretty, grainy wood. Brown wooden shelves that feel original to the house are another way to test the waters with wood. It will bring a warmth to any kitchen space, especially those trending bright white ones!"

– Country Living
---
Introducing Three New Aristokraft Styles in 2020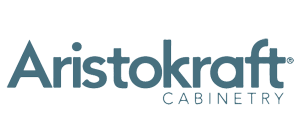 We are proud resellers of Aristokraft as they produce high quality cabinetry that is also affordable with a large variety of styles to meet our customers' needs.
"Aristokraft Cabinetry has the style, selection and value you need to bring your vision to life. With more than sixty years of craftsmanship, dedication, thoughtful design, and reliability behind us, we know how to keep your project on time and make planning your dream home simple and enjoyable. Whether you're updating an existing room or creating a brand new space, we'll deliver quality, affordable kitchen and bathroom cabinets that will stand the test of time."

– Aristokraft
So we are excited to announce three new styles from Aristokraft that will meet current trends and create a warm and inviting space in your kitchen, bath, home office, laundry or craft area:
Admiral Blue.

At Hager Cabinets, we are especially excited as Aristokraft has never had color options outside of white & grey, so they are right on trend with this incredibly rich new navy color. Deep blues are having their moment at the top of the trend list, and Admiral is a commanding color.
"We are seeing a move in 2020 toward colors that are darker and moodier, but also grounded in nature. Interest in these hues will extend toward kitchen cabinets. Blues work well because of the variety in these color families, and provide a sense of comfort."

—Sue Wadden of Sherwin Williams
"Strong blues are showing up more in renovations- particularly in kitchens.Navy is versatile. It's a neutral pigment without being too trendy or heavy and comes in many tones. Classic navy makes us feel safe-think police uniforms."

Jean Browhill, founder and CEO of New York based renovation matchmaking firm Sweeten
Dark and Navy Blues also conjures up military, school uniforms, and ocean vistas, all of which evoke positive memories and associations. There is also an emotional component to this color.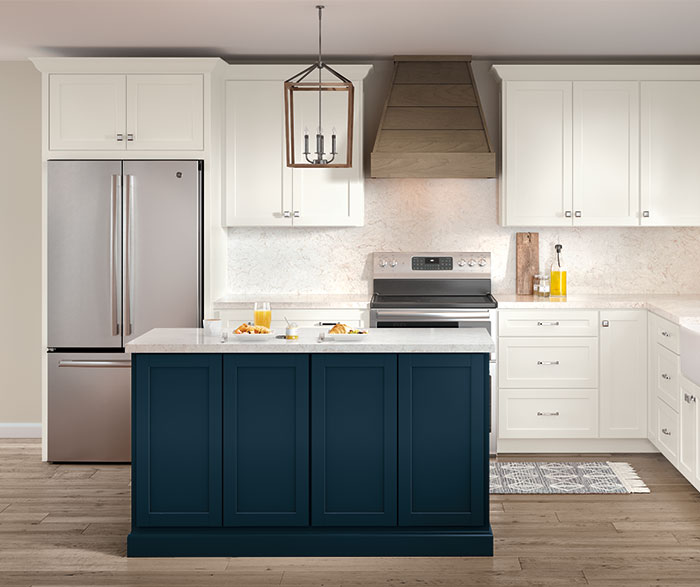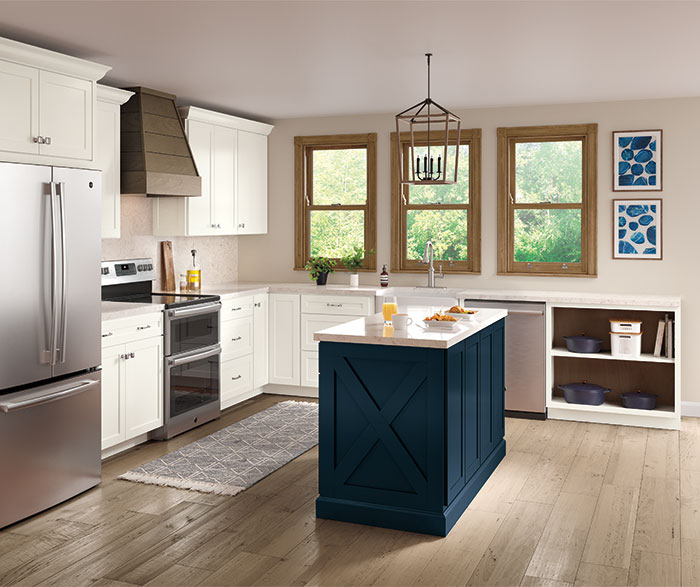 There will definitely be more color accents of navy in 2020 kitchen designs. Rather than choose just one color for the kitchen cabinets, the trend in 2020 is to choose one or several elements, like the kitchen island, kitchen wall cabinets, or kitchen base cabinets. Designers are also pairing navy with wood stains for two-toned kitchen cabinets.
Navy blue provides a sophisticated, chic, and ageless color punch to any kitchen- the common room we fondly know as the heart and hearth of the home. Leading design professionals predict that navy will not be the transient color of the year, but a color that will be embraced through the decades.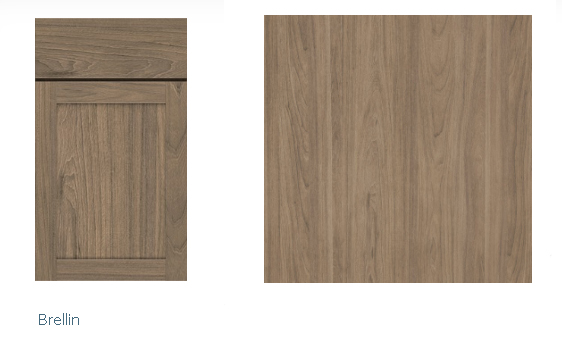 Burlap Textured.
Textured laminates are a fairly new product all together, but especially for a more value engineered product like Aristokraft. For cabinetry, homeowners are favoring customized colors and stains that would perfectly fit their kitchen space. Homeowners are looking for unique colors and stains that would make their kitchen stand out when compared to others. Neutral colors have always been one of the favorites. Light to medium tones are loved for their simple, soft clean look. They illustrate a timeless style which perfectly complement other elements in the kitchen.
Homeowners can utilize the textured PureStyle look which brings in nature into their kitchen. Textured PureStyle features a vertical textured woodgrain. The look and feel of real wood, with the durability of PureStyle. This texture door provides neutral finish with dimensional and fresh undemanding style. The versatility in its appearance will provide different options for homeowners.
Colada.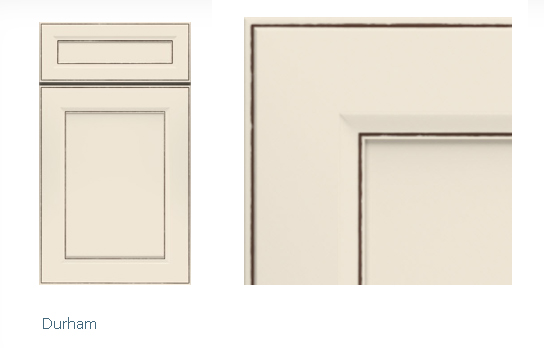 Replacing the outdated "antique", colada offers a softer off-white without going yellow but also giving our homeowners and designers an alternative to the stark or pure white Farmhouse style that has been the trend in the past ten years. Aristokraft offers this off-white version that is currently on trend and is perfect for those who want a clean, fresh look, but don't want to fall into the excessive brightness of pure white. Designers state that off-white tones promote a feeling of spaciousness without sacrificing a cozy feel.
The Colada offers cool undertones and is a perfect complement to the current trends of navy blues, greys, neutral wood tones and textured materials. The new Colada style is available in both Painted and Purestyle laminate cabinetry.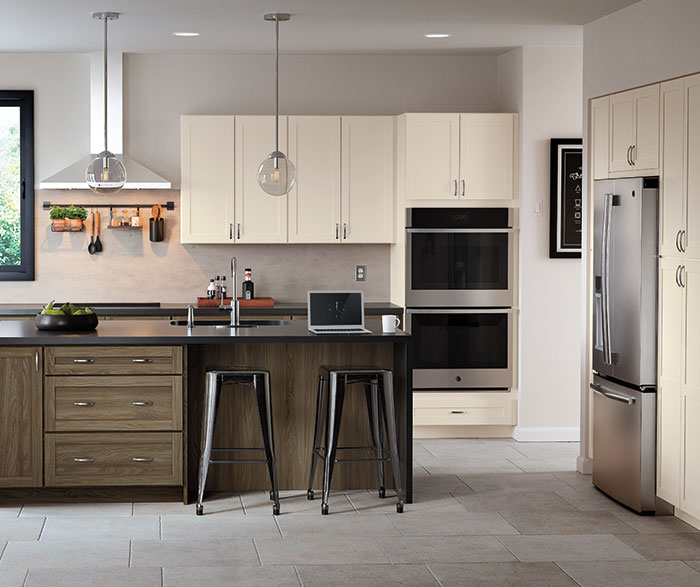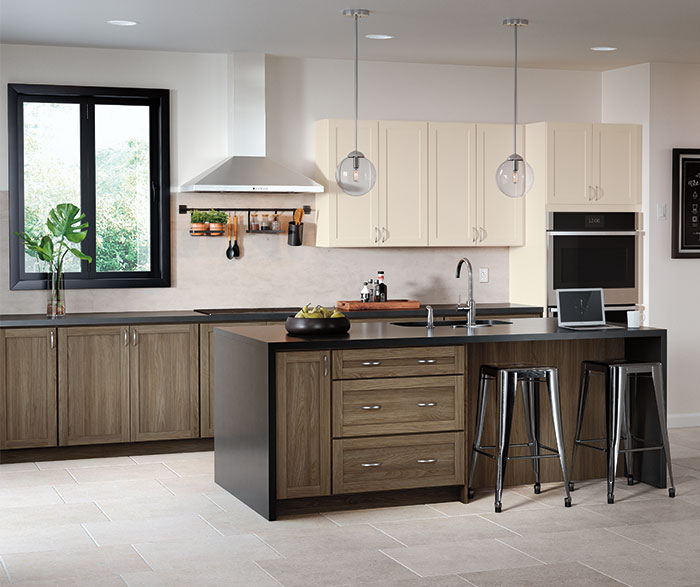 *If you'd like to see the samples of any of the new Aristokraft styles in person, we hope that we can soon reopen our showroom to the public within a few weeks. (Please see our Revised Hours Below)
---
Hager Cabinets offers Design & Planning
We provide design services with our talented and knowledgeable designers who are on hand at both locations to guide you in planning your dream kitchen or bathroom. Our team are more than happy to assist you in planning, budgeting, and designing your project. Our staff will use the latest and greatest design software to turn your idea or blueprint into a 3-D rendering.
See our Design Team in our Richmond and Lexington KY locations.
REVISED HOURS: COVID-19 Response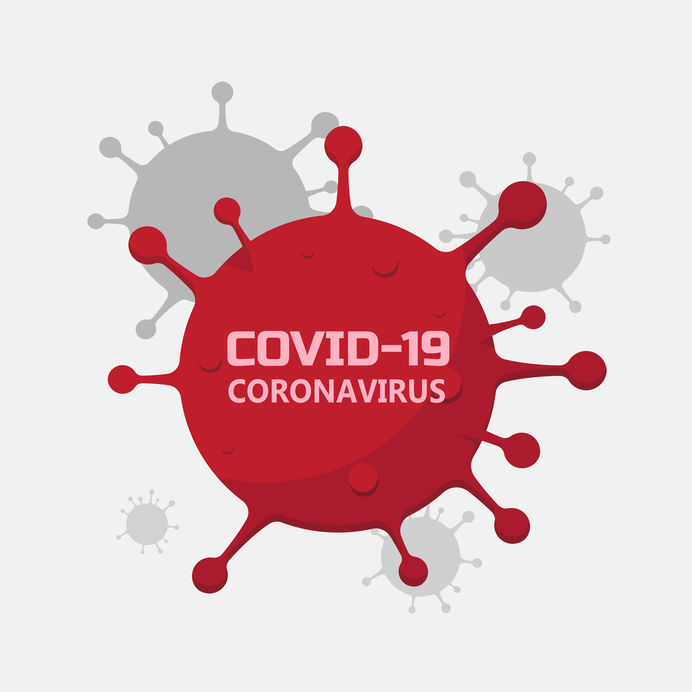 *Please NOTE: For the safety and health of our staff and customers, our showroom is currently closed until further notice according to current state guidelines. Yet you can still receive design services over the phone, meet with our designers online via remote services, or contact us by email.
Our current showroom Lexington & Richmond hours are:
Monday-Friday 8:30am-3:30pm
Saturday-Sunday: Closed
We look forward to the time when we can once again open our showroom to the public and meet with our customers in-person. Until then, we wish all of you and your families good health and comfort during this time of social distancing.