Our NEW Richmond KY Showroom
Where Beauty meets Affordability
The Inspiration behind our Showroom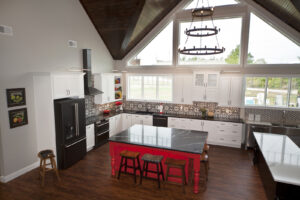 We are so excited to announce our NEW Hager Cabinets showroom at 466 Eastern Bypass, Richmond KY.  We are adjacent to Big Lots (at the end of the parking lot) and next door to the Hager Rental building. If you haven't been able to attend any of our recent events or have yet to visit our newly completed showroom, we invite our customers to come, look around and get the tour.
The inspiration of our showroom is to provide an inviting and warm space to:
welcome our customers and our community,
hold cooking demonstrations to promote local eateries, chefs and restauranteurs,
to hold events that promote small business owners and nonprofits in our area, and
of course, to showcase the wide variety of brands we carry: cabinets, appliances, countertops, flooring, windows, doors and everything else you need to build or remodel your home.
The mission of our showroom is to inspire ideas, instruct homeowners, assist professional contractors, support local economic development by facilitating construction and remodeling, and offer hospitality to the community.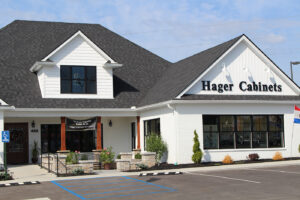 Our number one priority is to show our retail customers that you can have the home (kitchen, bath, craft room, office, etc) of your dreams regardless of your budget.  Our staff has years of experience, training, and in-depth knowledge of the brands we carry. So if you show us your plans, dreams, drawing or even an idea you found online or in a magazine, we will show you how you can make your dreams into a reality.
Our line of products range in pricing from discount to standard to luxury brands, but the one common denominator when we select ANY brand that we carry is high quality and durability.  If you purchase your materials at Hager, know that we have extensively vetted the manufacturers and have chosen only quality materials that offer warranties, a variety of materials, styles and colors, and when possible are American made and/or assembled.
Our Showroom was Built for You
While we invite our contractors and builders to peruse our options as well as bring their clients, the showroom was built to provide an inviting and unintimidating space for the public, homeowners, do-it-yourselfers and amateur designers.  We wanted to provide a one-stop shop for our retail customers to see all the latest trends and styles, cool gadgets and space-saving ideas, and explore our 22 displays to inspire ideas for their home.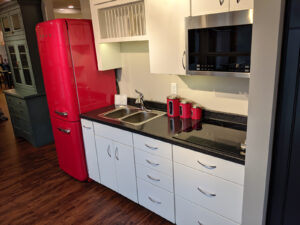 Instead of spending endless hours on Pinterest (or other social media platform), HGTV channel, or home design magazines, come into our showroom … touch, feel, ask questions and get knowledgeable answers.  Compared to our local competitors, our staff exceeds expectations because they truly care about you – the customer. Our sales team and onsite designers have an extensive knowledge of our brands, with an average of 10 years employment with our company, and are committed to providing friendly and attentive service.
Compared to big box building supply chains, we offer competitive pricing AND high quality brands AND an engaged and well-trained staff. Our competitors may at times beat our prices (by pennies on the dollar), but they will never beat our service and support throughout your project.
The History of Hager leads to a New Showroom
In 1969, as the business continued to grow, Bob and Oberita opened a cabinet warehouse and showroom on Irvine Street in Downtown Richmond naming it Hager Cabinets. Four years later they moved to 474 Eastern Bypass and expanded their inventory to include building materials, brick, windows, doors, flooring, lights, and appliances. So since 1974, our building supply and showroom inside served the needs of our customers; but over the years, our retail customers were often intimidated to enter the warehouse or felt they had to gain permission to enter.  While we are currently in the works on a renovation project of our Building Supply warehouse, our team collectively saw the need to create a space that would feel more like a showroom and less like a 'contractors-only' warehouse.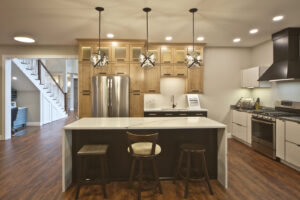 So Linda Hager Pack, our President, (and daughter of the founders, Bob and Oberita Hager), began the design plans for the new showroom by choosing a residential home plan to give the commercial showroom a 'homey' feel.  The plans were customized with Darrell Baker, our general manager and in-house construction guru, who managed the construction project of the showroom with Linda's supervision.  Every single building material from the foundation to the studs to the walls, sheetrock, roof, doors, windows, flooring, plumbing and electrical (even the nails!) came from our Hager Cabinets inventory.  And of course, our team of designers and our vendor representatives contributed their input to the twenty-two (22!) stunning displays of kitchens, bathrooms, craft area, fireplace and den, wet bar, laundry room, home office and outdoor patio.
Completed in Mid-May 2019, the showroom has received overwhelming praise from the community:
"Hager's Showroom is truly amazing! Has all the latest and greatest in every room. It has a patio area and furniture that I can only wish for." – Nancy Warren

"I have recently visited the showroom. It is absolutely beautiful and state of the art. I am so inspired as we plan the next stages of our home remodel." – April Hundley King
Shortly after opening, one woman visited our showroom on multiple occasions, took photos and talked with our staff.  Within a few weeks, she had a full scrapbook of ideas based off our showroom display which she used to design her newly built custom home in Richmond KY.
Beautiful and Affordable
Visitors to the showroom are not only impressed by the beautifully designed displays, but often misled to believe our showroom is only for those with a "luxury home" budget.  Nothing could be farther from the truth.  Our main kitchen area downstairs near the front entrance was completed using one of our high-quality but also highly-affordable brands … Aristokraft.  As they say, don't judge the book by the cover, or as we say … please don't judge the beautiful display by assuming the price tag is too high.  Our staff is eager to show you how affordable our options can be!
Events at our Showroom
Here at Hager Cabinets, we are invested in our community as we are a locally owned and operated small business that has been here in Richmond since 1969 and in Lexington since 1994; and we know our local customers are the reason we are still going strong.  So in turn, we want to celebrate our community and fellow locally owned businesses, artists, chefs and crafters.
Our main kitchen area is large enough to accommodate around 50 guests and with a full working kitchen; so we have been able to host local restaurateurs and caterers to show off their craft including Four Sisters of Richmond KY, M&D Catering, Chenault Vineyards, Cakes by Ellie and more.  We will also be hosting classes and workshops to help unemployed women in need, events supporting local charities and nonprofits, exhibitions to promote business to business, small business fairs to show local makers and artists, and occasional luncheons to support local realtors and builders.
Every Spring, we sponsor a Tool Day for local builders and contractors where our guests receive lunch by local food trucks as well as a free Nail Gun cleaning ($35 value).  Vendors are on hand to showcase their latest products and answer questions. (This event is by invitation only, so email us if you are a local contractor interested in attending).
If you have an idea for an event or if you'd like to feature your business, please contact our staff by filling our application.
Our main kitchen area features:
• Aristokraft cabinets (style: Landen Maple) in White
• Aristokraft island (style: Airedale Maple) in Red
• Silestone Eternal Marquina Black on backsplash, countertop and fabrication
• Blanco sink with a Trinsic faucet and Insinkerator disposal
• Appliances include GE Refrigerator, Range, Hood, Dishwasher and Trash Compactor

Our Kitchen #2 area features:
• Diamond cabinets (style: Selena) in Tidal Mist and Dover with Amaretto Cream Glaze colors
• Diamond island (style: Lagrange maple) in Black
• HanStone Quartz Kindred on backsplash, countertops and fabrication
• Quatrus sink with Empressa faucet
• GE Appliances include Refrigerator, oven, dishwasher, cooktop and range hood.

Our Wet Bar area features:
• Decora cabinets and island (style: Daladier Alder 5 piece) in Sherman Williams Loyal Blue (SW6510)
• Signature Hardware sink and faucet
• Appliances include Monogram Beverage Center, Nugget Ice Maker, GE dishwasher and microwave

Home Office under stairwell includes:
• Diamond cabinets and island (style: Baily Maple Drawer 5 piece) in Oasis color with pulls from Top Knobs
• Geoluxe fabrication (countertop) in Palissandro Polished
• Wall sconces is from Brock McVey in Savoy House style.

Laundry Room & Storage Area includes:
• Aristokraft cabinets (style: Brellin) in White and Jeffrey Alexander knobs
• Wilsonart countertop and backsplash in Marmo Bianco
• GE Designfront washer and dryer
• Florestone sink and Delta faucet
• Barn door – custom made

Our Family Room with Fireplace:
• Decora Cabinets in Leyden on Maple
• Lawless Hardware in Faux Ivory Carved Chevron Knob
• Wall sconces is from Brock McVey in Savoy House style.
• EverWarm Vent Free Firebox
• Outlets set inside cabinets and on mantle for sound system, television and Wifi

To see our displays in person, please feel free to stop in anytime during our showroom hours:
Monday through Friday: 8:30am-5:00pm |  Saturday: 9:00am-1:00pm |  Sunday: Closed